Automotive/General-Purpose Lifts - Page: 1 | 2
Product Overview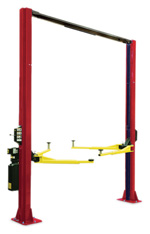 42010CS (12ft. Symmetric)
42010CA (12ft. Asymmetric)
42010CS14 (14ft. Symmetric)
42010CA14 (14ft. Asymmetric)
John Bean 10K 2-Post automotive/general-purpose lifts are packed with premium features: industrial-strength columns, low-friction lift carriage slides, low-wear components with plated arm pins, greasable arm pin supports, steel pulleys, dual-friction overhead safety shut off and more.
Third-part tested, ANSI ALCTV-2006 standard, ALI certified by ETL.
Click on one of the section titles to learn more about the 10K 2-Post Automotive/General-Purpose Lift.


Features
Single-point safety lock release for 2-hand lift lowering - keeps the operator safe while lowering the lift!
Mechanical safety locks at 17 operating positions for added safety
Dual-function micro-switch activates vehicle height safety rod and increases life span of drive motor and cylinders
Industrial-strength columns for increased strength and durability
Pre-loaded lift arms are straight even when loaded
Dual pre-stressed equalizing cables ensure level lifting
Overhead beam reinforces lift structural integrity
Steel cable pulleys with oil-impregnated iron bushings reduce the need for maintenance and increases life of lift
Stack pad style lift works with both cars and trucks, includes a set of 3" and 6" stack adapters
Fully-supported arm pins prevent lifting arms from sagging. Nickel/zinc-plated arm pins increase lifting arm's lifespan
Bolt-on gear-cut arm restraints increase lifting arm stability
Specifications
| | 42010CS | 42010CS14 | 42010CA | 42010CA14 |
| --- | --- | --- | --- | --- |
| Lifting Capacity | 10,000 lbs | 10,000 lbs | 10,000 lbs | 10,000 lbs |
| Overall Width | 147.75" | 147.75" | 140.75" | 140.75" |
| Overall Height | 144" | 168" | 144" | 168" |
| Width Between Posts | 120" | 120" | 106.75" | 106.75" |
| Maximum Lifting Height | 79.5" (with 6" adaptors) | 79.5" (with 6" adaptors) | 79.5" (with 6" adaptors) | 79.5" (with 6" adaptors) |
| Under Bar Clearance | 140" | 164" | 140" | 164" |
| Drive Through Width | 109" | 109" | 87.5" | 87.5" |
| Lifting Time | 45 seconds | 45 seconds | 45 seconds | 45 seconds |
| Shipping Weight | 1,545 lbs | 1,620 lbs | 1,545 lbs | 1,620 lbs |
| Power Requirements | 230V 1Ph 60Hz | 230V 1Ph 60Hz | 230V 1Ph 60Hz | 230V 1Ph 60Hz |